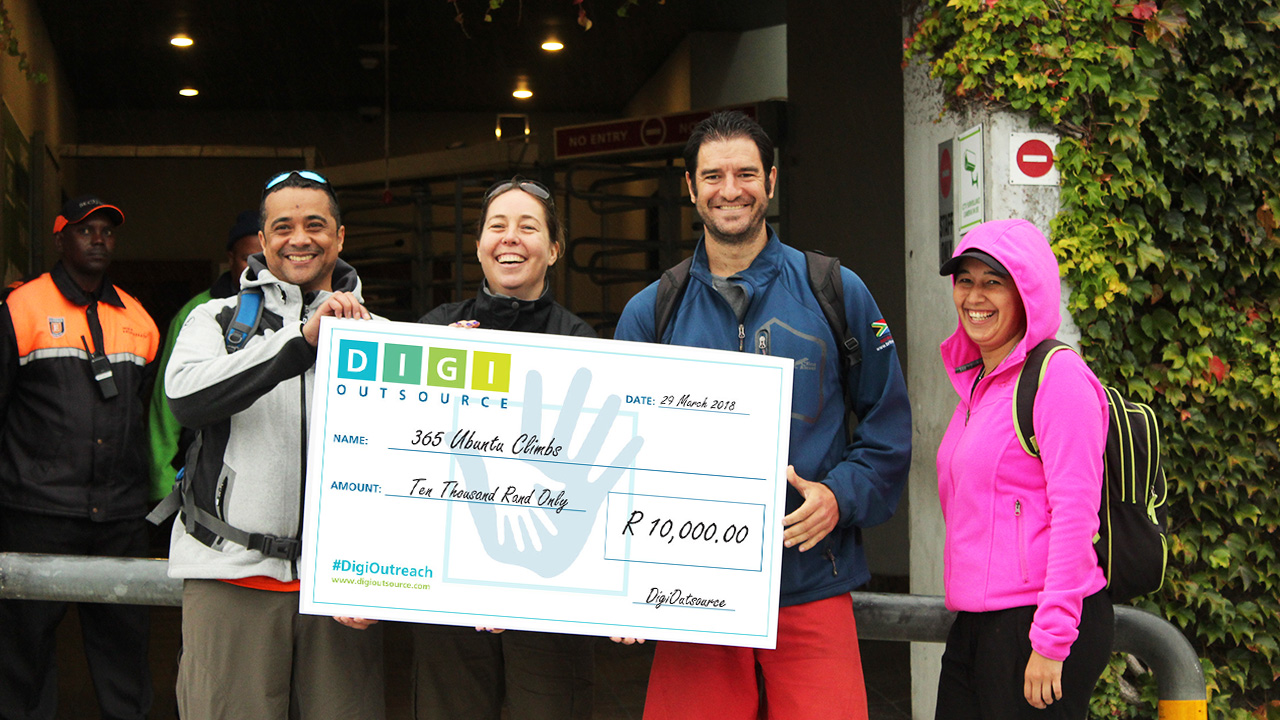 A Hike a Day for a Year
Our #DigiOutreach Charity initiative for March was to get behind Andrew Paterson, the man who has committed to hiking Table Mountain every day with no exceptions to raise R1 MILLION for a number of different charities, including One Heart for Kids, Habitat for Humanity and The Sunflower Fund. Anybody who has been to the top of Table Mountain whether by foot or cable car will understand what an exceptional feat this is.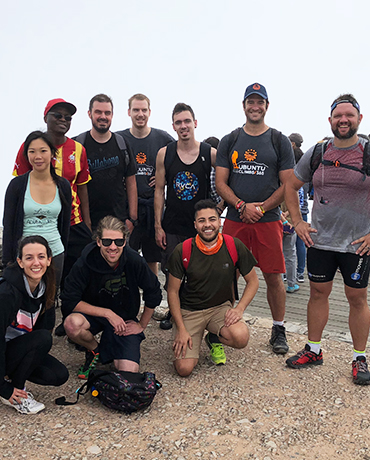 #DigiOutreach's Involvement
Feeling inspired by his dedicated initiative, aptly called 365 Ubuntu Climbs, #DigiOutreach sought to encourage employees to get involved and play their part. We offered to donate R100 to Andrew's cause per employee that joined, and eventually topped it up to R10 000. It's no secret that many of our staff members enjoy being fit and healthy, with hiking being on top of many lists as a favourite fitness activity. As such, an impressive 58 employees took to the slopes and joined Andrew on his quest. After the first 2 hikes with the DigiOutsource members, Andrew sent us the following synopsis:
'Two completely contrasting days greeted the two enthusiastic, energetic groups that joined me. Hike 72 was still, with spectacular mist covering everything but the CBD and Table Mountain. As we climbed, the early morning daze lifted and we all marvelled at the mist creeping its way up. By the time we reached the summit, we were completely in the mist. No bad word was spoken, as the feeling of 'we have to come back again' was uttered. The first group set the tone for their colleagues to follow. They would not be let down. Despite Hike 74 being struck by strong, freezing cold winds, there were again no bad words uttered as we climbed back down – their hike made that much sweeter by seeing the majestic views up top before the arctic-like mist washed over us. The hikes were dominated by conversations, encouragement, sharing, smiles, laughter and gratitude - a sign of what happens when amazing people join forces to hike with purpose. Knowing each step had with it not just the power to lift them to the top of Table Mountain, but the opportunity to lift someone else out of poverty – was incredibly inspiring."
A Word of Thanks
We would very much like to thank all of those who offered their time and energy to scale Table Mountain alongside Andrew for his phenomenal cause. Anyone still wishing to join him is welcome to do so, and highly encouraged. Those who would like to simply make a donation can visit www.backabuddy.co.za/365-ubuntuclimbs. We also continue to wish him all the inspiration he needs, daily, to make the same journey in the name of fighting poverty and impoverishment around South Africa. We would also like to challenge other corporate companies to match, or better, our donation to this wonderful cause!